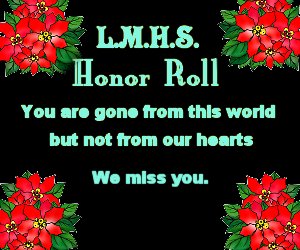 A Special Note:
A very good friend and fellow singer in my old oldies group, whom I've known over 35 years, passed away on April 10th, 2001 from
complications due to Agent Orange.
Rest In Peace, Jimmy!
Teachers & Spouses
Mrs. Bruce Baldwin (July 2001)
Unknown Year of Graduation
Michael Krall
Class of 1960
Barry McMichaels
Carol Scrimo
Marilyn Fusco
Charles Goldberg (1984)
Irene Mullio
Paul Murphy (1998)
Carol Remmert
Barbara Rehak (1963)
Arnold Weiner
Class of 1961
Bobby McMichaels
Class of 1963
Bob Denton
Lorraine Gazzola
Peter Iverson
Lauren Kummernuss
Bob Sanzone (Vietnam)
Barabara Solomon
Philip Selvaggio
Robert Sanzone
Class of 1964
Robert Armstrong
Robert Gunstone
Marion Hughes
Christine Louizos
Lawrence Sklarew
Jay Suhaka
Class of 1965
Walter "Corky" Annand
Judy Boroff
Ronnie Boyle
Nancy Ginder
Dyckman Knecht (Vietnam)
Posey Kraft
Robert Lawson
Ken Matzen
Patrick O'Hearn
Melody Oskey
Linda Robertson
Linda Squeglia
Kerry Geddes (Vietnam)
Class of 1966
Barry Leonard
Robert McElligott
Larry Silvers
Ben Godwin
Class of 1967
Kathleen Behrens
John Ferber
Carol Geist
Anthony Lee
Robert Lett
Mark Johnson
Walter Mannix
Gregory McCormack
Terese Nicholson
Thomas Pannullo
Bruno Ricena
Rita Rode
William Rossi
Michael Wallace
Joanne Wulle
Meredith McCool (1996)
Bob Coynes (Oct. 2000)
Class of 1968
Bar(Bonnie) Burns Sanchez (12/5/00)
Thomas Armstrong
Michael Krall
Class of 1969
Bobby Schmidt (Vietnam)
Maureen Boyle
Deborah Welsch
Ralph Degregorio
Tommy Smith
Patricia Nicholls
Frank Dodge
Richard Kipling
Class of 1970
Billy Lemieux
Eddie Stelletti
Debra Pinto
Allan Luther
Class of 1971
Richard Gaffney
Kenneth Loar
Gloria Calamia
Class of 1972
Michael Nimal
Kathy Fowler Deacon (1998)
Kevin McKinney (1979)
Theresa Smith (Aug. 1985)
David Brown
Peter Harrigan
Wayne Wrege
Guy Jock Fugit (July 2001)
Class of 1973
Pat Bickerton
Julie Barreto(1996)
Jane Schneider(1993)
Michael "Monk" Levine
Glenn Wilkinson (WTC Attack--Fire Chief FDNY
Class of 1974
Tommy Cascio
Scott Harmon
Mark Steletti
Kevin Sutch (1995)
Alan Cohen
Beth Mehm
Larry Licandro
George McGurk
Keith Morrison (1999)
Class of 1975
Eileen Mahoney
Donna Dascall
Bob Quackenbush
Don Vogt (4/6/01)
Class of 1976
Joe Shields
Laure Caldwell
Class of 1977
Rich Forgione
Larry Cerasi
Cathy Lynch
Rich Drasser
Lou Politano
Mike Fuller
Carolyn Winkelman (nee Brown)
Class of 1978
Robert Joseph
Class of 1979
Patti Ruckert
Ricky McPartland
Mark Fuller
Class of 1980
Lester Schloen
Winifred Kennedy
James Funch (May 1987)
Wayne Devlin
James Funch

Click the Button to see the List of Teachers
who have Passed On.